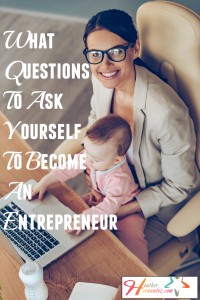 I feel like I accidentally turned my blog into a business, but I actually started my business by asking myself 5 questions and answering them. My blogging journey involved asking these questions of myself more than once and answering them more than once. At times I felt lost, and I didn't think I could answer these questions. But I could always find help! The challenge was to find the right person to ask or the right article to read.
I've been reflecting on my blogging journey after eight years of blogging on 
Freebies4Mom.com
 and upon starting my new blog at HeatherHernandez.com. I want to help answer your question: "How do I find legitimate work-at-home opportunities?" The answers will be different for every woman. But by sharing my answers and my experiences, it might help you in your journey to be an entrepreneur.
************************************************************************
1. What are you passionate about?
What do you love to do and who do you want to help?  Why do you enjoy it?
I love helping people save money. I like to try new consumer products. I enjoy exploring the internet. I want to help moms.
My answers to this question helped me define my blog, Freebies 4 Mom and turn it into my full-time business what supports my family of four. Your answers will help direct you to opportunities to try or a new business to start. Keep asking yourself this question and answer it in as many different ways as possible. When you answer, create a new question from your answer to help you dive deeper into your passions.
2. What skills do you have?
Your most important skill is the ability to learn new things. I used to think that I couldn't start a blog because I didn't know HTML, the computer programming language behind many websites. But I had learned Fortran in college, so I had experience learning a computer programming language. I could certainly learn a new computer programming language, but I discovered I didn't need to because there would always be a graphical user interface that would make bogging almost as easy as sending email. Now I did learn a little HTML, but only enough to make small changes to my blog.
I actually remember the most valuable piece of HTML I learned was from a reader who taught me how to add target="_blank" to make a link open up on a new page. It's the perfect example of learning something new from someone you don't know because they (not you) identified it would be useful to learn. That's the beauty if blogging – connecting with people who can help you and who you can help. It's just sometimes a surprise who will help you and how the helping will take place. But you have to be open to learning new things every single day!
3. What opportunities are available?
Talk to everyone you know and tell them what type of work-at-home job you're looking for. My first work-at-home opportunity was as a technical editor for a local company. I asked a friend who previously worked for them on a contract basis. It was the only job I could think of applying for that my previous work experience as a civil engineer qualified me for. It was a good way for me to make money, but I wasn't passionate about scouring hundreds of pages of technical docs and I found the job a bit boring.
Technical editing was not the right work-at-home job opportunity for me, so I created my own opportunity in the form of a blog. I started my blog as a hobby while I worked as a technical editor. I named my blog based on the weekly email I sent to my friends called "Freebies for Mom". My hope was that someday I could make money from my blog, but I never dreamed that my blog would become my full-time job and I wouldn't return to work as a civil engineer. But I hoped for it and I took baby steps towards the goal of earning a full-time income from my blog. Not only is my blog my full-time job but it's the only source of income for my family at the moment. It is my dream job and I enjoy my work more than any other job I've had.
4. How do I start a blog?
The beauty of a blog is that you define what it is and it can support any business idea that you have. I started my blog using Google's free
Blogger
platform. I switched to
WordPress
after I lost my Blogger blog due to Google's use of automated spam detection and their lack of customer service. I might be bitter about losing my blog overnight (luckily I did have a backup), but I did love Blogger because it was FREE (my favorite word) and the interface was easy to use (which also meant there were less customization options).  On WordPress I pay a hosting fee for the server my blog files live on, but I own those files so I have complete control over them.
5. How do I monetize my blog?
I had
Google Adsense
ads on my blog on Day 1. The beauty of display ads is they pay per view, so by creating content that people want to read you can make money. realistically you'll only make pennies per thousands of visitors to your blog, but those pennies add up and of course display ads aren't the only way to monetize. Other ways to monetize include:  Selling Products or Services, Ads, Affiliates, Sponsors, Speaking, Teaching, etc.
************************************************************************
I hope these five questions will help you in your journey as an entrepreneur.
Which questions are you asking yourself that are helping you become an entrepreneur?